RAPTURING FAITH (PART 5)
Introduction:

"Verily,  verily I say unto you, THE SERVANT  IS
NOT  GREATER THAN HIS LORD; NEITHER HE  THAT  IS
SENT GREATER THAN HE THAT SENT HIM" (Jn.13:16).
"TRUST  IN  THE LORD WITH ALL THINE  HEART;  AND
LEAN  NOT UNTO THINE OWN UNDERSTANDING.  IN  ALL
THY  WAYS  ACKNOWLEDGE HIM, AND HE SHALL  DIRECT
THY  PATHS.  BE NOT WISE IN THINE OWN EYES: FEAR
THE LORD, AND DEPART FROM EVIL". (Prov.3:5-7).
The  above verses may look fundamental, but what
a great rapturing faith the Lord wants to reveal
to you from these verses in this literature!
     I pray that your eyes of understanding will
be  opened to catch the mystery as you read this
rapturing faith part 5.

          GOSPEL DISTRIBUTION MINISTRY
    

THE INVISIBLE

"Things  which are seen were not made of  things
which do appear" (Heb.11:3b)

    The  Lord stated when he was ministering  in
Galilee  that "The son can do nothing of himself
but what he seeth the father do; for what things
soever  he  doeth,  these  also  doeth  the  son
likewise.   For the father loveth  the  son  and
sheweth  him all things that himself doeth:  and
he  will shew him greater works than these, that
ye may marvel." (Jn.5:19-20)
    When you study the miracles performed by the
Lord  Jesus  when he was on earth especially  to
the deaf, the blind, or the dumb you will notice
that  he did not act the same way in every case.
I will like to narrate few  cases of opening the
blind eyes:
    "And  as Jesus passed by, he saw a man which
was  blind  from  his birth. And  his  disciples
asked  him,  saying, Master, who did  sin,  this
man,  or  his  parents, that he was born  blind?
Jesus  answered, Neither hath this  man  sinned,
nor  his  parents:  but that the  works  of  God
should be made manifest in him."
"When he had thus spoken, he spat on the ground,
and  made  clay of the spittle, and he  anointed
the  eyes  of the blind man with the  clay,  And
said  unto him, Go, wash in the pool of  Siloam,
(which is by interpretation, Sent.)  He went his
way  therefore,  and washed, and  came  seeing."
(Jn.9:1-3;6-7).
   Someone might think making clay of spittle to
anoint  a  blind  eye is the key;  but  here  is
another case:
"AND THEY CAME TO JERICHO: AND AS HE WENT OUT OF
JERICHO WITH HIS DISCIPLES AND A GREAT NUMBER OF
PEOPLE, BLIND BARTIMEUS, THE SON OF TIMAEUS, SAT
BY  THE HIGHWAY SIDE BEGGING.  AND WHEN HE HEARD
THAT  IT WAS JESUS OF NAZARETH, HE BEGAN TO  CRY
OUT  AND  SAY,  JESUS, THOU SON OF  DAVID,  HAVE
MERCY ON ME.
AND  MANY  CHARGED HIM THAT HE SHOULD  HOLD  HIS
PEACE; BUT HE CRIED THE MORE A GREAT DEAL,  THOU
SON OF DAVID, HAVE MERCY ON ME.
AND  JESUS STOOD STILL, AND COMMANDED HIM TO  BE
CALLED. AND THEY CALL THE BLIND MAN, SAYING UNTO
HIM,  BE OF GOOD COMFORT, RISE; HE CALLETH THEE.
AND HE, CASTING AWAY HIS GARMENT, ROSE, AND CAME
TO JESUS.
AND  JESUS ANSWERED AND SAID UNTO HIM, WHAT WILT
THOU  THAT I SHOULD DO UNTO THEE?  THE BLIND MAN
SAID  UNTO  HIM, LORD, THAT I MIGHT  RECEIVE  MY
SIGHT.
AND  JESUS SAID UNTO HIM, GO THY WAY, THY  FAITH
HAS MADE THEE WHOLE. AND IMMEDIATELY HE RECEIVED
HIS  SIGHT  AND  FOLLOWED  JESUS  IN  THE  WAY."
(Mk.10:46-52).
    Here  is  another  one: "AND  HE  COMETH  TO
BETHSAIDA; AND THEY BRING A BLIND MAN UNTO  HIM,
AND  BESOUGHT HIM TO TOUCH HIM.  AND HE TOOK THE
BLIND  MAN BY THE HAND, AND LED HIM OUT  OF  THE
TOWN; AND WHEN HE HAD SPIT ON HIS EYES, AND  PUT
HIS  HANDS  UPON HIM, HE ASKED  HIM  IF  HE  SAW
OUGHT.
AND  HE LOOKED UP, AND SAID, I SEE MEN AS TREES,
WALKING.
AFTER THAT HE PUT HIS HANDS AGAIN UPON HIS EYES,
AND  MADE HIM LOOK UP: AND HE WAS RESTORED,  AND
SAW EVERY MAN CLEARLY." (MK. 8:22-25).

Listen to this case where the Lord healed a deaf
man:
    "AND  THEY BRING UNTO HIM ONE THAT WAS DEAF,
AND  HAD  AN IMPEDIMENT IN HIS SPEECH; AND  THEY
BESEECH HIM TO PUT HIS HAND UPON HIM.
AND  HE  TOOK HIM ASIDE FROM THE MULTITUDE,  AND
PUT  HIS FINGERS INTO HIS EARS, AND HE SPIT, AND
TOUCHED HIS TONGUE.
AND  LOOKING UP TO HEAVEN, HE SIGHED, AND  SAITH
UNTO HIM, EPHPHATHA, THAT IS, BE OPENED.
AND  STRAIGHTWAY HIS EARS WERE OPENED,  AND  THE
STRING  OF HIS TONGUE WAS LOOSED, AND  HE  SPAKE
PLAIN." (Mk.7:32-35).

    The Lord's actions were different in each of
these  cases.   How  many  times  have  we  seen
ministers  just  lay hands  on  the  head  of  a
patient  to pray for him, not being led  by  the
Spirit  of  God?  These examples from  the  Lord
showed that with the several cases of blind  men
that   were   healed,  the  Lord  did  something
different in each case.  It shows we must be led
by the Spirit of God for each action as the Lord
has  said:   "WHAT THINGS SOEVER  HE  SEETH  THE
FATHER DO THAT ALSO DOETH THE SON LIKEWISE".

The  Lord appeared to me in a vision one morning
and  said  to me: "follow me, and do as  I  do."
Then  he ran ahead and avoided certain obstacles
one  way.   When  I reached those  obstacles,  I
tried  to  avoid the obstacles my own way.   The
vision  stopped.   Then the Lord  gave  me  this
topic as you will read further.

Yea, "lean not unto thine own understanding".
This  is  very  important  in  rapturing  faith!
Those  who  have  read  the  earlier  series  of
"rapturing faith" will remember I mentioned that
through  prophetic dreams and visions  the  Lord
will  be "conditioning" his elect for the  home-
going   translation.   You  must  realize   that
"rapture"  or  the  translation,  which  we  are
talking  about, means we will be  taken  out  of
this  planet  into somewhere in  space,  visible
universe or invisible universe.   When the  Lord
said  "follow me", it literarily means  we  must
follow in his footsteps -- NOT SKIPPING A  STEP!
It  must  boil  down to "what things  soever  he
seeth  the  father do, that also doeth  the  son
likewise", if he is our father. The Lord gave me
series  of experiences on this issue to help  me
in  exhorting his elect on this topic.  This  is
why  I  admonish  you to study  this  literature
prayerfully.

     Graphically,   suppose   there   are   five
classrooms  in a circle as shown in the  picture
below  (Figure 1).  Suppose you and  the  master
come   into   the  circle  in-between  classroom
numbers  1 & 5.  While you stand and watch,  the
master  ran  around to classroom 2, then  3  and
finally  5  and stopped.  He then  told  you  to
come.   Realizing that classroom 5 is just  next
to  classroom  1 by which you are standing,  the
first  thought that comes to you is  to  "simply
cross over to the master from 1 to 5.  Right?"
"WRONG!   You  are  expected to  follow  in  his
footsteps!"
   Yea, LEAN NOT TO THINE OWN UNDERSTANDING!
The human nature will try to outsmart the master
who seeth all things which you cannot see!   The
fact is "IF THE MASTER WAS GOING TO CLASSROOM 5,
DO YOU THINK HE WAS SO STUPID THAT HE WENT ON  A
RENDEZVOUS  TO CLASSROOMS 2 AND 3 BEFORE  COMING
TO 5?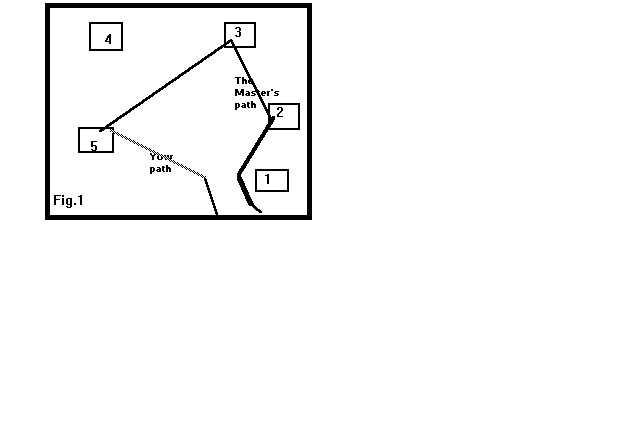 Remember  when the Hebrews left Egypt to  go  to
the  promised land, God led them via the  longer
route  for one reason:  He seeth a problem which
could  overwhelm the people's faith if they  had
gone through the land of the Philistines.
"AND  IT CAME TO PASS, WHEN PHARAOH HAD LET  THE
PEOPLE GO, THAT GOD LED THEM NOT THROUGH THE WAY
OF  THE  LAND OF THE PHILISTINES, ALTHOUGH  THAT
WAS  NEAR;  FOR GOD SAID, LEST PERADVENTURE  THE
PEOPLE REPENT WHEN THEY SEE WAR, AND THEY RETURN
TO EGYPT." (Ex.13:17).

Also  in another example, the Holy Ghost forbade
Paul  to preach in Asia (Acts. 16:6).  But  have
you noticed that when Paul later went into Asia,
though  he  had great evangelistic  success,  he
confronted his biggest persecutors.  (Acts.19:22-
28,33).    In  fact  Alexander  the  coppersmith
mentioned  by  Paul  in  the  second  letter  to
Timothy   was  met  in  Asia,  who   must   have
personally gone to Rome to testify against Paul.
The  Jews  who arraigned Paul in Jerusalem  were
from Asia (Acts.21:27, 24:18). (2Tim.14:15).

Yea, "take fast hold of instruction, let her not
go; keep her, for she is thy life."

    Watch!   Consider the picture below  (figure
2): There can be things perhaps invisible to you
which  are  obstacles whereby the only  path  to
classroom  5  is the way the master  took!   Or,
there  can  be invisible doors in the way  which
will  only  be  opened  as  you  touch  base  at
classrooms   2   and  3!   When  you   therefore
sensually try to cut across from classroom 1  to
5   you  will  not  be  able  because  something
invisible may push you back.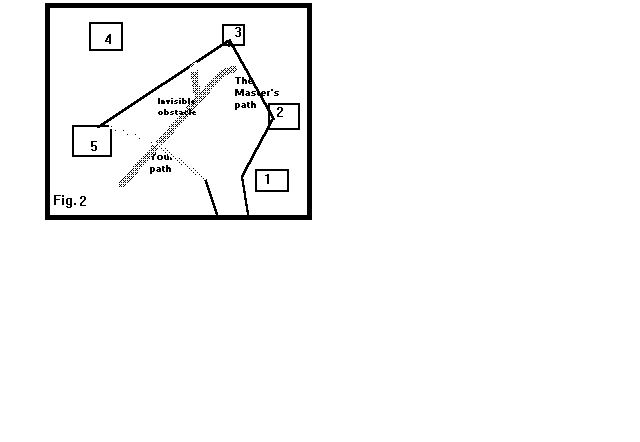 Yea  "the  secret things belong to the Lord  our
God,  but those things which are revealed belong
unto  us  and to our children for ever, that  we
may do all the words of this law". (Deut.29:29).

    Remember I said earlier that the saints will
be as angels in the new world as declared by the
Lord Jesus. (Mk.12:25).  It implies, we will  be
able to travel in the universe, visible universe
and  the  invisible  universe,  riding  in  God-
ordained chariots.  Then you should realize that
we  will not follow our eyes and intellect  when
we  see  one  galaxy which looks closer  to  us.
THERE CAN BE DANGEROUS, UNSEEN GULF OF BLACKHOLE
WHICH SEPARATES THE TWO LOCATIONS.
    Remember the story told by the Lord of  what
Abraham said to the rich man:  "BETWEEN  US  AND
YOU  THERE  IS A GULF FIXED, SO THAT THEY  WHICH
WOULD PASS FROM HENCE TO YOU CANNOT; NEITHER CAN
THEY   PASS   TO  US,  THAT  WOULD   COME   FROM
THENCE.".(Lk.16:26).   Yet the gulf is invisible
to the rich man.

"I  was caught up into space one morning by  the
Angel of the Lord, and I had the opportunity  of
riding with a host of angelic beings in a train-
like  whirlpool  taking us from  one  galaxy  to
another.  I could see all the "people"  in  this
train-like transportation system, travelling  at
a  terrific  speed,  yet  exiting  at  different
spots.   The Lord specifically made me to notice
that  this  vehicle  has  no  tangible  body  or
casing.   Then  I  perceive it  is  a  beam-like
conveyor system."
    This  is  an  example  of  the  type  of  an
invisible obstacle  that can be in the path when
trying  to cross from classroom 1 to  5  in  the
picture above.
    There are many dimensional platforms in  the
invisible world.  You may be in the spirit,  and
yet there will be angelic beings still invisible
to you, while to those angelic beings there will
still be other dimensions invisible.  God is  in
the innermost dimension and yet everywhere.  The
following testimony will reveal what I mean:

I  was  caught  up one morning  to  a  beautiful
city.   The streets of this city  were  straight
and  long  so  that a car on  the  street  at  a
distance  looks like a cap.  One can almost  see
10  miles  ahead  if not more.  There  were  few
people  in  the city. In fact, it looks  like  a
city  still  under  construction  and  not   yet
populated  except for some visitors or tourists.
But   rows   of  beautiful  housing   complexes,
already  completed, lined  the  streets.   As  I
appeared at one end of a street of this city,  I
thought  I had been raptured;  I saw some  folks
crossing the street at about 50 yards   from  me
and they were entering a house.  I wanted to run
and  meet  them to enter the same  house  but  I
couldn't move.  Something invisible was  holding
me  back!    At  a  distance a  car  was  coming
towards me.  I had seen this car afar off and it
looked  like  someone threw his cap  (or  crown)
across the street, but as it moved closer, I saw
it was actually an open vehicle with two persons
inside.   The  painting   at  the  base  of  the
vehicle was black and white "V" shapes that made
the  vehicle  look like a crown at  a  distance.
When  the  vehicle came close to where I  stood,
then  the  angel  who carried  me  to  the  city
manifested  to  the  visibility  with  his  arms
around   my  waist,  which  was  the  previously
invisible  thing that held me back.   The  angel
spoke  to  the  gentlemen in the vehicle   in  a
language  I  did not understand, and they  spoke
back  to  him,  and  moved  on.   Then  when   I
attempted  to  go forward the second  time,  the
angel  released  his arms and I  went  into  the
house  where  the other visitors  had  entered."
(etc.).

I  believe that the city I saw may be one of the
several  places  the Lord is preparing  for  his
people up yonder.
"In  my father's house are many mansions; if  it
were  not  so I would have told you.   I  go  to
prepare a place for you" (Jn. 14:2).

GET UNDERSTANDING: "THE INNER SENSE"

    I relate the above testimony so that you may
understand  that  there  are  several  invisible
dimensions; just as I was in the spirit in  that
vision  yet  I  did not see the angel  that  was
holding  me  back  until he  manifested  to  me.
Therefore in the spirit realm, if an angel  says
to you "follow me" and he goes round a loop, you
ought to be closely behind him and go round  the
same loop instead of shortcutting your own trip.
    It  may sound simple to you, or you may  ask
why is this such an important point to be called
part of rapturing faith?  The reason is that you
must  realize there are decision-making  systems
which  have  been  naturally programmed  in  our
spirit  due to our logical human experiences  on
the  earth.  (Remember rapturing faith  part  3:
what  we  are  "used to" must be  neutralized.).
This  automatically makes our spirit choose  the
shortest route to its destination, following the
commonly used input sensor from "the eyes".
    It  is necessary therefore for us to get the
"understanding" that there may be more to  "time
and space" than what our eyes can see.  This  is
why I call understanding the "inner sense".   By
this  inner sense, we are admonished  to  follow
instructions closely.

"Doth  not  wisdom  cry? and  understanding  put
forth her voice?"
"  unto you, O men, I call; and my voice  is  to
the sons of man.
O  ye  simple, understand wisdom: and, ye fools,
be  ye  of an understanding heart." (Prov.8:1,4-
5).

    For  example, King Saul lost the  throne  of
Israel  because  he did not closely  follow  the
instruction given to him by the Lord through the
prophet  Samuel, and he mistakenly followed  his
emotions and the people's suggestion.
  "THEN SAMUEL SAID UNTO SAUL, STAY, AND I  WILL
TELL  THEE  WHAT THE LORD HATH SAID TO  ME  THIS
NIGHT. AND HE SAID UNTO HIM, SAY ON.
AND  SAMUEL SAID, WHEN THOU WAST LITTLE IN THINE
OWN  SIGHT, WAST THOU NOT MADE THE HEAD  OF  THE
TRIBES  OF  ISRAEL, AND THE LORD  ANOINTED  THEE
KING OVER ISRAEL?
AND  THE LORD SEND THEE ON A JOURNEY, AND  SAID,
GO   AND   UTTERLY  DESTROY  THE   SINNERS   THE
AMALEKITES, AND FIGHT AGAINST THEM UNTIL THEY BE
CONSUMED.
WHEREFORE THEN DIDST THOU NOT OBEY THE VOICE  OF
THE  LORD, BUT DID FLY UPON THE SPOIL,  AND  DID
EVIL IN THE SIGHT OF THE LORD?"
AND  SAUL  SAID UNTO SAMUEL, YEA, I HAVE  OBEYED
THE  VOICE  OF THE LORD, AND HAVE GONE  THE  WAY
WHICH  THE  LORD SENT ME, AND HAVE BROUGHT  AGAG
THE  KING  OF AMALEK, AND HAVE UTTERLY DESTROYED
THE AMALEKITES.
BUT  THE  PEOPLE  TOOK OF THE SPOIL,  SHEEP  AND
OXEN, THE CHIEF OF THE THINGS WHICH SHOULD  HAVE
BEEN   UTTERLY DESTROYED, TO SACRIFICE UNTO  THE
LORD THY GOD IN GILGAL.
AND  SAMUEL SAID, HATH THE LORD AS GREAT DELIGHT
IN BURNT OFFERINGS AND SACRIFICES, AS IN OBEYING
THE  VOICE  OF  THE LORD?  BEHOLD,  TO  OBEY  IS
BETTER  THAN SACRIFICE, AND TO HEARKEN THAN  THE
FAT OF RAMS.
FOR  REBELLION IS AS THE SIN OF WITCHCRAFT,  AND
STUBBORNESS   IS  AS  INIQUITY   AND   IDOLATRY.
BECAUSE THOU HAST REJECTED THE WORD OF THE LORD,
HE HATH ALSO REJECTED THEE FROM BEING KING.
AND SAUL SAID UNTO SAMUEL, I HAVE SINNED: FOR  I
HAVE  TRANSGRESSED THE COMMANDMENT OF THE  LORD,
AND  THY WORDS: BECAUSE I FEARED THE PEOPLE, AND
OBEYED THEIR VOICE.
(1  Sam.15:16-29).   Yea, "understanding"  would
have  instructed  King Saul and  he  would  have
resisted  the wish of the people and would  have
obeyed God.

    Another  example:  Moses was  refused  entry
into  the  promised  land  because  he  did  not
follow the instruction given to him by the  Lord
concerning "speaking to the rock" to give  water
to  the  people.   Instead, he smote  the  rock.
(Num.20:3-12).

As we move closer and closer to the HOLY ONE, we
will notice that the degree of tolerance of  our
disobedience  will be reduced.  Just  like  when
your  child is still a baby on your lap, he  may
"stool"  on  your garment without any  spanking.
But if he is now 10 years old and he does such a
thing,  when he could have run to the toilet  by
himself, he certainly will be punished.
   "WISDOM IS THE PRINCIPAL THING; THEREFORE GET
WISDOM:   AND   WITH   ALL   THY   GETTING   GET
UNDERSTANDING" (Prov.4:7)
    "THE  FEAR  OF THE LORD IS THE BEGINNING  OF
KNOWLEDGE:   BUT   FOOLS  DESPISE   WISDOM   AND
INSTRUCTION". (Prov.1:7).

Remember,  "take  fast hold of instruction,  let
her  not  go;  keep her, for she is  thy  life."
(Prov.4:13).


(Are   you   getting  substance  out  of   these
rapturing faith series?  If so, let me know.  If
not,  feel free to write and ask questions: "for
precept  must  be  upon  precept,  precept  upon
precept; line upon line, line upon line; here  a
little and there a little".) (Isa.28:10).

TRUST GOD

There  is an aspect of "trust" we must get  into
for  rapturing  faith!  Picture  this:   Bullets
flying  all  around!   Random  shooting  in  the
streets!   You believe the word of God  that  "a
thousand  shall  fall  at  thy  side,  and   ten
thousand at thy right hand but it shall not come
nigh  thee!"   Yet you are still scared  as  you
walk  in  the  street?  There is  an  aspect  of
"trusting God" which we must get into.
  Yes you believe it;  but some times you wonder
whether  your mistake, yesterday, will make  God
to  disappoint you today?   He is more  faithful
than  that!   "Trust your God"  to  fulfill  his
word!   He walks with you, not because  you  are
now  perfect;  you  are  only  accepted  in  the
Beloved -- through the shed blood of Jesus:   "I
will  set  him on high because he has  known  my
name" (Psa.91:14).  (The verse does not say -- I
will  set him on high because he is now  perfect
and makes no mistakes anymore).  "I will set him
on  high because he has known my name": The name
of God has been declared to the believer in "the
Lord   Jesus   Christ",  in  which   we   trust.
(Jn.17:26; 16:26).

The  angel who carried me into the whirlpool  of
galactic transportation told me that he does not
need  to  carry me up.  He said I  can  ride  in
these transportation systems without his help: I
must "trust my God" to carry me.
Yea, there is an aspect of "trusting our God" we
must get into for translative faith!
   You  see  a wall ahead of you which you  must
walk  through  to  continue?  Your  spirit  must
"trust God" to filter you through that wall!  It
is  a  trust in the faithfulness of the Almighty
God.
  The following testimony will explain what I am
saying:
    I was in a vision one morning. I saw that  I
was  on  top  of a tall mountain.  There  was  a
little  village on the other mountain  overthere
where  I  wanted to go, but a very  deep  valley
separated the two mountains.  Looking down,  the
depth of the valley seemed like one mile or two,
but  the village was only about a hundred meters
away.   I  said to myself: "if I can  only  walk
across  like  on a bridge, (which  there  wasn't
any),  it  will be faster than to go  down  this
deep  valley  and climb up on the  other  side".
Then  the  voice of the Lord spoke  to  me  from
above  to go ahead and just walk across  in  the
air.   I  believed and stepped out and the  Lord
carried me across, walking in the air.
    Yea,  "thine ears shall hear a  word  behind
thee  saying, this is the way, walk ye  in  it".
(Isa.30:21).
    Will you confidently do what the voice says?
When you hear the voice, there must be an aspect
of  "trusting your God" which you must have,  to
step out and do as He instructs!
   In physical life, we get into an elevator and
press  a  button, or into an airplane;   we  are
trusting the engineering system, which is  prone
to failures, to carry us up.  God's system never
fails!
   But,  "HE THAT IS FAITHFUL IN THAT  WHICH  IS
LEAST, IS FAITHFUL ALSO IN MUCH".  (Lk.16:10).
    This  message is not for everybody!  If  you
don't  have  the  faith to trust  God  for  your
healing, you cannot begin to talk about trusting
God  for translation.  Therefore you must  learn
to   trust  God  for  your  finances  and   your
physical needs first, before you can have enough
strength    to    trust   God    for    galactic
transportation,  or for walking  through  walls,
which  you  have never seen anybody  demonstrate
except  the record about the Lord Jesus  walking
upon  the  sea, or when he walked through  walls
after his ressurrection.
    He  is the same God who will perform it  for
us!   Therefore,  "Walk before  him  and  be  ye
perfect".

(to be continued..)

NOTE:  If  you are edified by these literatures,
please  write and let us hear from you.  As  the
Lord said "AND UNTO YOU THAT HEAR SHALL MORE  BE
GIVEN" (Mk.4:24b).


    Bro.Julius Adewumi, Gospel Distribution,
 .

I  believe  the  messages  in  these  "rapturing
faith"  literatures are unique!  If you know  of
any  other  ministry instructing on this  level,
please  send their literatures to me: I'll  love
to  learn more from such!  Or, if these messages
do  not mean much to you, you are, perhaps,  NOT
tuned  to  the  same frequency in the  spiritual
things  of  God  for  "DEEP CALLETH  UNTO  DEEP"
(Psa.42:7).   But  you can  seek  the  Lord  and
search  the  scriptures to see if  these  things
were so.  He that seeketh, findeth!   Amen!